Blue Lizard® Australian Sunscreen Expands Product Portfolio for a Sun-Safe Summer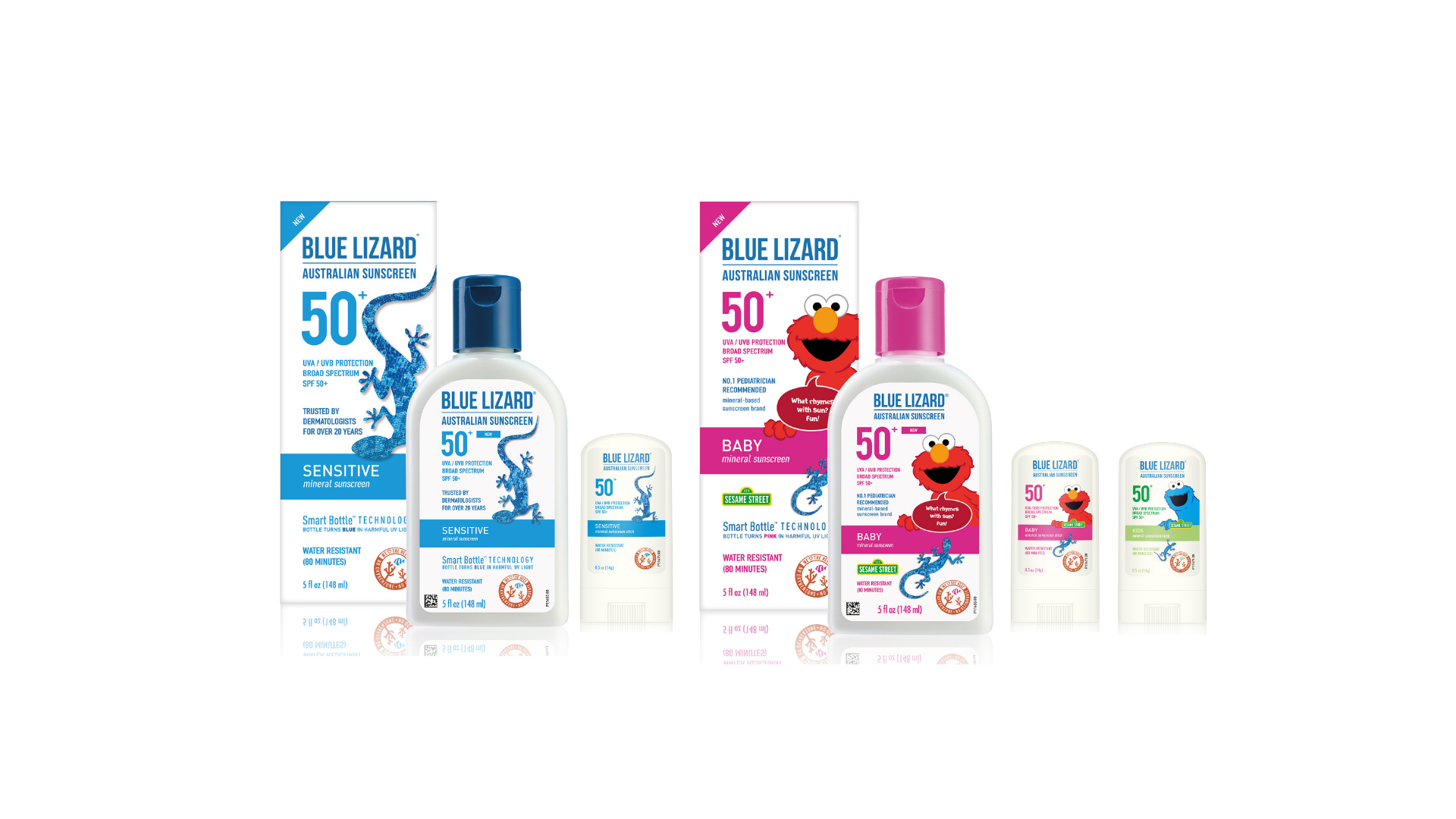 March 9, 2020 - (Johnson City, TN)- Crown Laboratories, Inc. announced today that the Blue Lizard Australian Sunscreen portfolio is expanding with the introduction of a highly anticipated and reef-safe SPF 50+ line, which will debut at the American Academy of Dermatology (AAD) meeting on March 20.
Part of Blue Lizard's We Love the Reef line, the new SPF 50+ lotions are available in Baby and Sensitive formulas and the new SPF 50+ stick is available in the Sensitive, Baby and Kids. These new sunscreen formulations include zinc oxide and titanium dioxide, which are fully compliant with the reef-safe sunscreen legislation passed in Hawaii and Key West and meet the FDA's standards aimed at regulatory requirements to ensure sunscreen is safe and effective. The line will also continue to feature Sesame Street characters with Elmo on the baby products and Cookie Monster on the kids' sunscreen.
The new line incorporates two primary goals for Blue Lizard Australian Sunscreen: a continued commitment to delivering quality sun protection options that are safe for consumers and the environment at fair prices.
"Crown has a strong relationship with its loyal customers, and we are committed to providing them with best in class sunscreen formulations," said Jeff Bedard, Crown's President and CEO. "We're adding the mineral-based SPF 50+ and user friendly-stick because our customers asked, and we listened. Protecting consumers' skin while remaining vigilant about the ingredients we put into our products, ingredients that provide safe and effective sun protection and also protect the environment, those are the key drivers of our product development."
The new line meets Blue Lizard's brand standards and provides users with application options. The new SPF 50+ product line features:
SPF 50+ Baby Lotion (Available at BlueLizard.net and Amazon.com)
SPF 50+ Sensitive Lotion (Available at BlueLizard.net and Amazon.com)
SPF 50+ Baby Stick (Available at Amazon.com and Walgreens/Walgreens.com)
SPF 50+ Kids Stick (Available at BlueLizard.net, Amazon.com and Walgreens/Walgreens.com)
SPF 50+ Sensitive Stick (Available at BlueLizard.net, Amazon.com and Walgreens/Walgreens.com)