PanOxyl® Expands Line of Acne Fighting Solutions with Two New Product Launches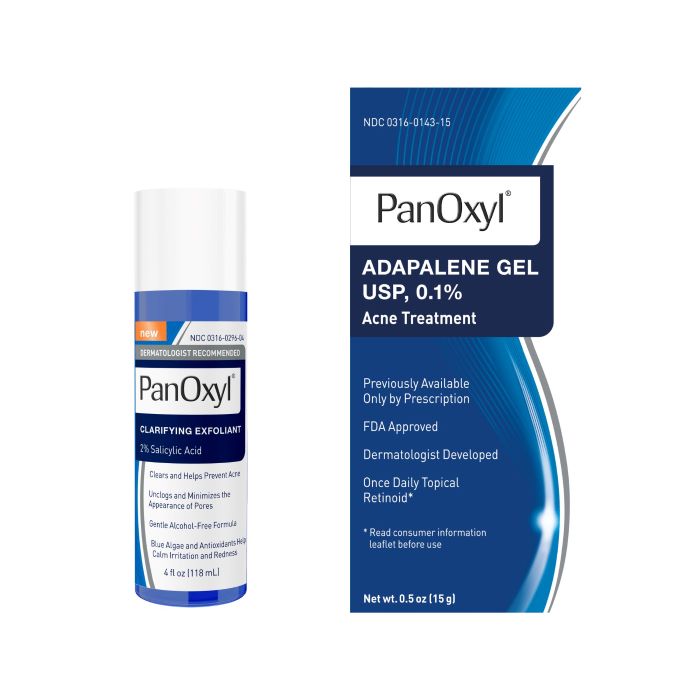 October 4, 2023 (Johnson City, TN) - Crown Therapeutics, a division of Crown Laboratories, proudly unveils two new PanOxyl® product launches to its award-winning and dermatologist-supported line – PanOxyl Clarifying Exfoliant with 2% Salicylic Acid and PanOxyl Adapalene 0.1% Gel.
With popular and reliable award-winning products for acne treatment, PanOxyl has become synonymous with benzoyl peroxide. PanOxyl 10% is the #1 best-selling acne product in the United States.1  It is universally trusted to effectively treat breakouts, making it the go-to solution for tackling blemishes. With a steadily increasing presence in the market, PanOxyl is continuing to broaden its product portfolio to include new options to fight and prevent the often-heartbreaking effects of persistent acne.
Our new PanOxyl Clarifying Exfoliant, with 2% Salicylic Acid, is a leave-on formula that clears breakouts while delivering a smoother and brighter complexion. It features a pH-balanced, alcohol-free formula that can be used daily without any harsh effects. PanOxyl Clarifying Exfoliant is formulated with antioxidants and blue algae to calm irritation and redness and unclogs and minimizes the appearance of pores.
Available without a prescription, our new PanOxyl Adapalene 0.1% Gel features high-performance ingredients that are clinically proven to treat acne. This once daily topical retinoid is dermatologist developed and tested. It is also oil and fragrance free.
"The most common challenge for my patients includes acne and how best to treat it, especially for sensitive skin," says Dr. Suneel Chilukuri, Board Certified Dermatologist. "PanOxyl's Adapalene Gel and Clarifying Exfoliant provide essential solutions for my patients – not just for current acne lesions, but for a long-term solution, as these new products will treat and prevent further blemishes."
"Our mission is to provide patients with the best and most accessible skin health products," says Steve Gallopo, EVP and General Manager of Crown Therapeutics. "These new additions to the PanOxyl collection represent an exciting milestone for the brand as we continue our commitment to helping people achieve healthy skin by minimizing concerns and maximizing results."
1 Crown Laboratories, Inc. calculation based in part on data reported by NielsenIQ through its RMS Service for the Acne Category for the 52-week period ending 8/12/2023, for the total U.S. market, xAOC, according to the NielsenIQ standard product hierarchy. Copyright ©2023, Nielsen Consumer LLC.
About PanOxyl®

Known for its #1 selling acne wash in the U.S., PanOxyl offers a dermatologist recommended line of products designed to clear, treat, and prevent acne to reveal your best-looking skin. Always backed by science, PanOxyl has been used and trusted by millions around the world for the last 45 years. For more information about PanOxyl or its products, visit www.panoxyl.com.